Rainbow Bridge Sympathy Cards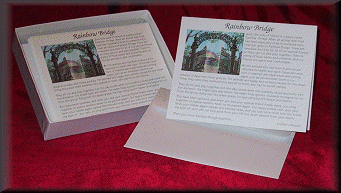 Click image for detailed card photo
The Rainbow Bridge Pet Sympathy Cards are quality cards inscribed with the Rainbow Bridge poem and the Rainbow Bridge "Welcome Gate" image. Each box contains 10 cards and 10 envelopes. The inside is blank for your personal message.
Thank you for your support of Rainbow Bridge. A portion or all purchases will be donated to a rescue/shelter to aid in the care of homeless animals.
Bulk orders also available. Packaged for animal crematoriums, pet cemeteries and veterinarian offices.
Privacy Policy
Our Promise to You: At no time will the information you provide to Rainbow Bridge be sold, shared, given to, or let be seen by any other organization. This information will also not be used to market additional products to you.
Security
Rainbow Bridge is a certified Visa, MasterCard and Discover PayPal Secure Merchant, ensuring your privacy and security online.