Welcome to Abby's Rainbow Bridge Memorial Residency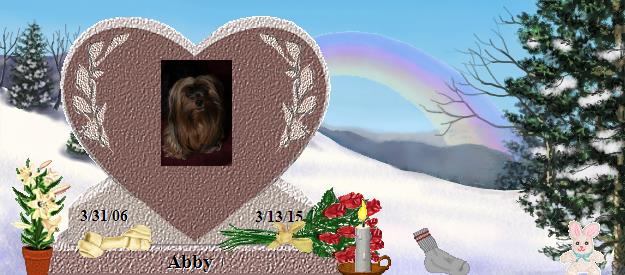 Memories of Abby
3/13/16

My Dearest Abby,

As the day is approaching of the first year of your passing, my heart still hurts like it was yesterday! There has not been one day that has passed in the last 364 days that you have not crossed my mind or I've called out your name and called you my Little Princess or cried from the pain of you being gone! You have forever left your paw print on my heart!!

As I look back at your pictures, it was so hard for Mommy to see the forest for the trees at how sick you really was!! I wanted so bad for your medicine and diet to work for you, but God had other plans for my Little Princess!! There's been a lot of babies this past year to cross over the Bridge! Makes my heart hurt each time I read about it!! I pray you've been there to greet them all, wave at them and show them around!!

You are definitely one special little girl Abby!! I will LOVE you till my dying day Little Princess!!! Till we meet again! <3

I love you!

7/21/15

Hello Miss Abby!! Today your Sister Maggie came to visit you!! I hope she has found you by now!! Abby, I miss you so much! I think about you everyday and wish that you was still here with me!! You just have no idea how badly Momma misses you!! You, like Maggie was such a trooper!! I will never forget the day you passed in my arms!! You are loved my sweet Abby! You & Maggie take care of each other!!

Please also visit Maggie.
Photograph Album
(Click on thumbnail to enlarge photo)

---
---
Abby's People Parent(s), Kim, would appreciate knowing you have visited their Abby's Memorial Residency.
Click here to Email Kim a condolence, or to send an E-sympathy pet memorial card click here.