Welcome to Bruno's Rainbow Bridge Memorial Residency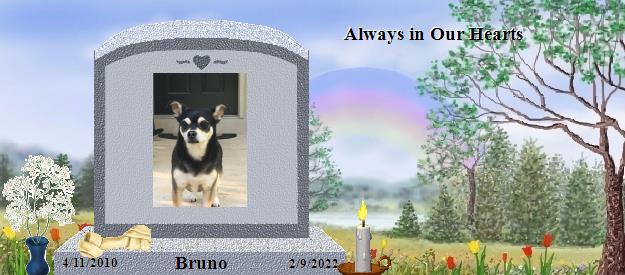 Memories of Bruno
Our sweet boy, Mom's little love bug! We are going to miss your precious little face and endless wet nose kisses that you gave freely each day to anyone that wanted one. From the moment you came into our lives, you gave unconditional love. All you ever wanted was to be near us or in our laps trying to get a head scratch or tummy rub. You quickly became accustomed to a massage from Mom or your nightly treat/snack from Papa with your feline sister, Choc Milk and loved the occasional car ride to dairy queen for your very own small scoop of vanilla ice cream. For almost 12 years, you never left Mom's side even as you took your last breath. The house will seem a little emptier, quieter, lonelier now as we don't have you eagerly awaiting our arrival with your whimpers and little dance until Mom picked you up. We could not have asked for a better little dog with the biggest heart! The void in our heart will never heal but we can all look towards the day when we meet again, and you will be reunited in our arms forever so go run and play with your brother Coco, who went on before you till we meet again snack cake!
---
---
Bruno's People Parent(s), Mom, Papa, Jay & Dustin, would appreciate knowing you have visited their Bruno's Memorial Residency.
Click here to Email Mom, Papa, Jay & Dustin a condolence, or to send an E-sympathy pet memorial card click here.

Give a gift renewal of Bruno's residency
(by Credit Card, or PayPal)