Welcome to Oscar's Rainbow Bridge Memorial Residency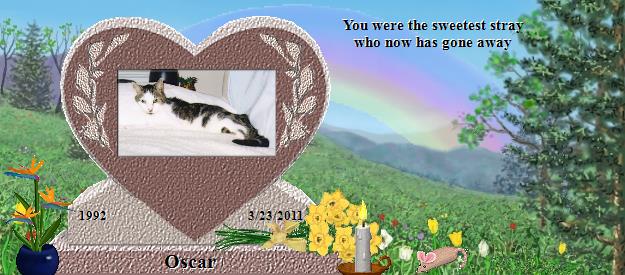 Memories of Oscar
You were the friendliest stray who won the hearts of many in our neighborhood. No one ever really knew where you came from, but you decided to stay. Everyone looked after you and fed you. The feral cats even welcomed you and looked to you as their leader. One day you decided to take up residence on the love seat on our front porch. You knew that after many years of being the homeless neighborhood stray that you had finally found someone to love you and care for you. We brought you in every night for the past few years and gave you a warm bed or couch to sleep on. You felt safe and loved, and you brought us much happiness. It was hard watching you decline in your old age and even harder to let you go, but you are free of any pain and at peace. We will never forget you, dear Oscar. You will always be in our hearts. Run, play and enjoy the sunshine over the Rainbow Bridge.
---
---
Oscar's People Parent(s), Charles & Sherry, would appreciate knowing you have visited their Oscar's Memorial Residency.
Click here to Email Charles & Sherry a condolence, or to send an E-sympathy pet memorial card click here.

Give a gift renewal of Oscar's residency
(by Credit Card, or PayPal)