Personalized Rainbow Bridge Poem Urn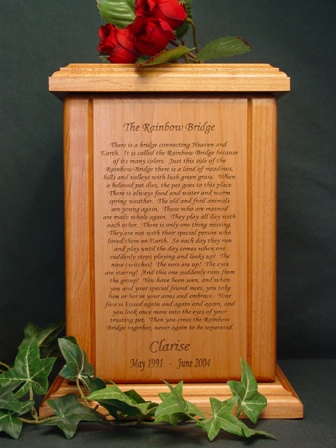 Click image to read poem
The Rainbow Bridge Memorial Poem Urn is made of Red Alder. This wood is a smooth surfaced wood and makes a beautiful background for the Poem.
Your Fur Baby's Name as well as the Birth and Passing dates are engraved in the wood just under the poem.
Poem is gender specific (your choice)
Vendor: 4 Ever in My Heart
Average shipping time for this item is 7 - 14 days.
Privacy Policy
Our Promise to You: At no time will the information you provide to Rainbow Bridge be sold, shared, given to, or let be seen by any other organization. This information will also not be used to market additional products to you.
Security
Rainbow Bridge is a certified Visa, MasterCard and Discover PayPal Secure Merchant, ensuring your privacy and security online.