Welcome to Osiris's Rainbow Bridge Memorial Residency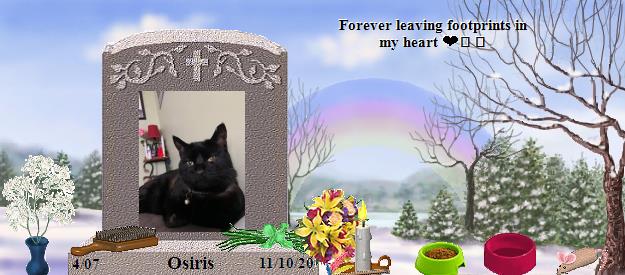 Memories of Osiris
I cannot believe that it has been a year already my precious baby. There isn't a day that mommy thinks of you all the time. I look at your picture, and it pains me to shed sad tears, but I know that you are free, and playing beyond the rainbow.

I keep calling your name especially to your brother and sister. Oliver and Carmen. They have not replaced you but are what mommy calls a split soul of you.

I love you for ever my baby boy. Play free and have fun! Wherever you are. 🐾❤️

--

The cold Weather has set in, and it's 2022, and I know you are still running free and safe my precious baby. I had a dream of you that you were meowing at mommy's door to let you in. Were you visiting me? I miss you so much precious kitty. Your purrs and meows are in my thoughts everyday. Hope you have made lots of fur friendships.

---
---
Osiris's People Parent(s), Amanda, would appreciate knowing you have visited their Osiris's Memorial Residency.
Click here to Email Amanda a condolence, or to send an E-sympathy pet memorial card click here.

Give a gift renewal of Osiris's residency
(by Credit Card, or PayPal)